The 2nd Annual Maureen Farrell McCarthy Irish Soda Bread Competition was again this year a great success, testimony to the importance in our lives of a living expression of our heritage that gets handed down from one generation to another.
Close to 30 entrants, many of whom so enjoyed the competition last year that they entered again. Of course so many from the Capital Region, but many from outside: Poughkeepsie and the Hudson valley, western Massachusetts, out toward Utica. And scores and scores of visitors throughout the day who just came to taste and enjoy: from Pennsylvania, New Jersey, the Hudson Valley, New Hampshire, Long Island, Connecticut, and Syracuse.
Thank you Museum Trustee and Irish American Chef Harold Qualters, creator of the annual amateur competition, and judges Chef Michael Kiernan (Wheatfields Bistro & Wine Bar, Clifton Park), Chef Michael Galbraith (Exec. Chef, Sysco Foods) & Museum Trustee Pat Hale (Irish soda bread baking instructor). They spent hours tasting the breads based on a set of metrics developed by Harold. AND IMPORTANTLY thank you Price Chopper Supermarkets for sponsoring the contest!!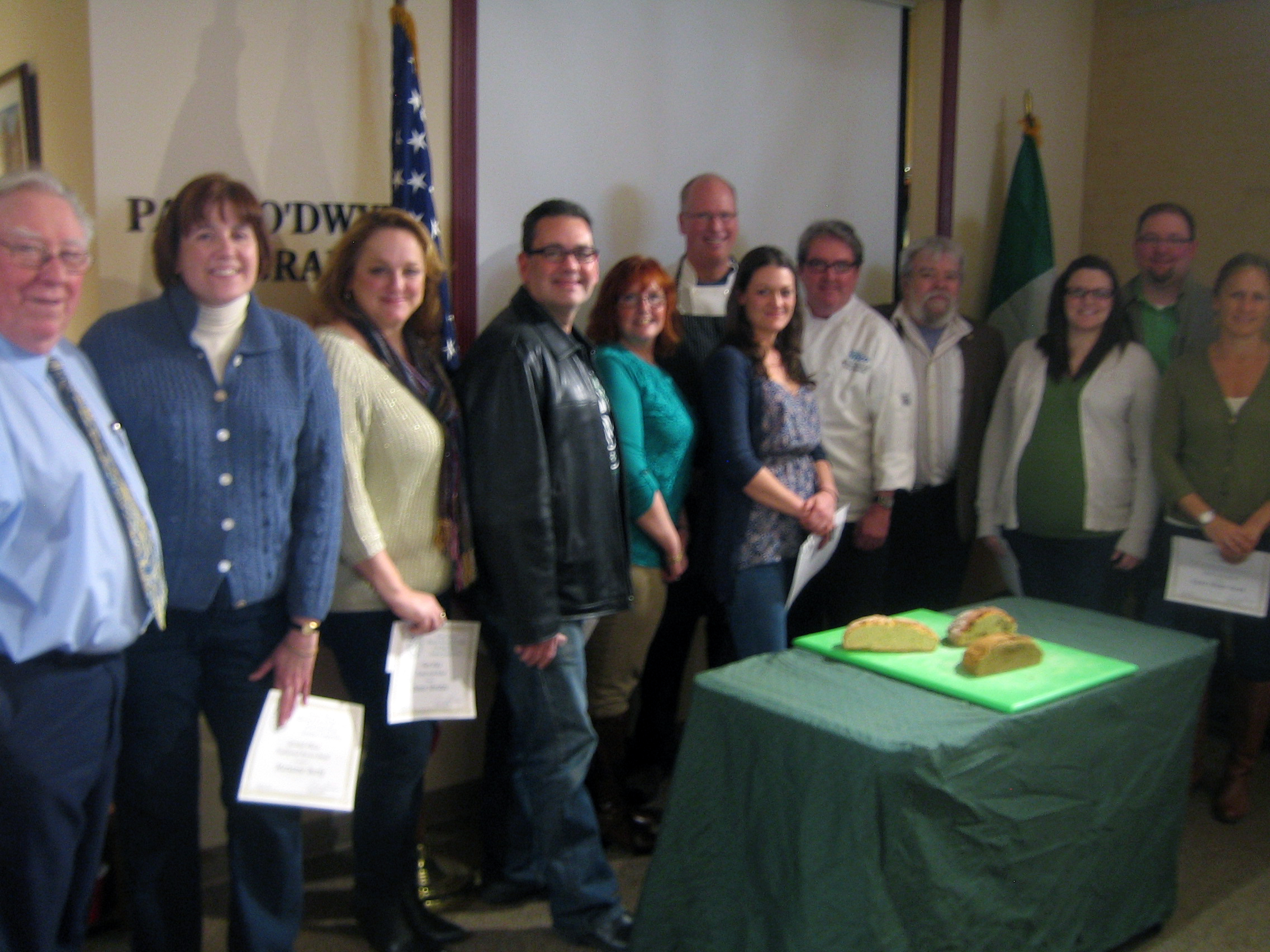 The winners! First place winners ($300 cash each) Rob Madeo (traditional brown), Sheila Van Vorst (family nontraditional) and Anya Endsley (traditional white); 2ndplace winners
($100 Price Chopper gift cards): Mary Bancroft, Marianne Burke, Karen Mahar Burek ; 3rd place winners (pair tix to Ciaran Sheehan – THE Phantom on Broadway – at Troy Music Hall April 4; please see our "News & Updates" for all the details): Adam Bancroft, Doreen Sheridan; and Honorable mention Mary Ann Zeszutko.
You will be pleased to know that the entrants provided two loaves of every bread they entered: one for the judges and one to be cut for the visitors to taste. At the competition's conclusion, the untouched loaves remaining from the judges' cuttings were carefully packaged and donated to a local shelter for the homeless — gifts in keeping with the Irish Christian tradition.
And the winning first place Irish soda bread recipes in each of the three categories are: