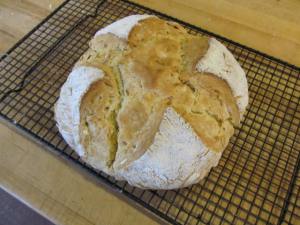 The Green month of March! Saint Patrick's Parades in Boston, New York City, and across the whole Country; Guinness, soda bread and thousands of people claiming Irish heritage and those wishing they could claim Irish heritage; Irish music, Irish pubs, people wearing outlandish clothes studded with every shade of green; leprechauns, green dye(sacrilege) in (Harp's) beer, a day for memories, heritage, feasting and for quaffing eternal amounts of Guinness and Johnny Jameson; a day for solidarity by hanging out at the Ancient Order of Hibernians, an Irish pub or your home with your loving family and friends; cooking a meal (American Irish classic corned beef and cabbage) that will honor our ancestors, acknowledge where they came from and why they came to the United States. This is what we do at the Qualters home. It is a joyful day renewing our Irish heritage and passing it on.
Over the years our menus on St.Patrick's Day over the years have included the following menu items and are always present on our table.
Irish smoked salmon with capers, finely diced onion and hardboiled eggs served on a classic Irish brown bred slathered with butter or served on our toasted Guinnessmalted barley bread rounds.
Donnelly's baked Irish bangers wrapped in puff pastry (purchased online), is served hot with Lakeshore Irish mustard imported from Ireland. Donnelly's bangers are purchased locally at The Counties of Ireland gift store on 3rd Street in Troy, NY.
And of course we serve a variety of Irish Kerrygold Cheeses, Irish Lakeshore Mustard, and an assortment of crackers.
A new favorite of ours is a dish of Donnelly's Irish Black Pudding. I am leaving you with the recipe. It can be served as an appetizer or as a 1st course. It is absolutely delicious with sautéed apples and caramelized onions.
I braise the brisket in Guinness and Magner's Irish hard cider and serve it with Lakeshore Irish mustard sauce. Another favorite is roasted leg of lamb served with lamb gravy gently flavored with the hint of mint. I steam the Savoy cabbage and serve it with Irish Kerrygold butter, salt and pepper. And of course, we can't forget one of the most famous mashed potato recipes, Colcannon, laced with cooked and shredded kale, generous amounts of Kerrygold Irish butter and milk.
And for dessert we have adopted a recipe for Bailey's Irish Cream Cheesecake, rich, delicious and decadent! The recipe can be found at the end of this column.
At the top of our menu there is the incomparable and truly Irish, Soda Bread. In discussing Irish food with anyone, there is no mystery to the words, soda bread. Everyone knows it's from Ireland. A "word or two" about Irish soda bread, obviously, our Irish ancestors, dating back to the Bronze Age and even earlier, made bread, unleavened as it was, hard to chew as you can well imagine. By the 7th century we have records that bram, (a yeast from fermented malt, I believe a product resulting from the making of beer) was being used to leaven (unpredictable at best) bread. In the early 1820s the Irish began to use sodium carbonate produced by an American company. The first published recipe for soda bread(1836) was found a few years ago in a newspaper from County Down, Ireland. The recipe contained four (4) ingredients: salt, flour, buttermilk or sour milk and sodium carbonate, baking soda. And, as they say, the rest is history.
On Saturday, March 8th, at the Irish American Heritage Museum, Albany, NY, our annual soda bread competition will take place. Information regarding the soda bread competition can be found on our website, Irish-US.org.
The recipes below with a short history are for your Irish recipe box and for delighting your family and friends on Saint Patrick's Day: Black Pudding, Colcannon, Bailey's Irish Cream Cheesecake and the Brown Bread recipe from the famous Ballymaloe Cooking School, Shanagarry, County Cork, Ireland. Cooking Irish!
Happy Saint Patrick's Day! It's your heritage, pass it on!
Slainte,
Harold Qualters
History/Tradition/Observation
According to Colman Andrews, author of the superb cookbook, Country Cooking of Ireland, the earliest breads of Ireland were probably made from crushed grains such as; barley, rye, oats and wheat cooked on hot stones. I believe they would have been extremely dense, dry and definitely to the tooth, somewhat flat with some lift to them caused by what was called bram, foam left from the brewing of ale and cider. This bram appears to be the ancestor of brewers yeast. This method and style of making bread in Ireland lasted for centuries until the commercial production of yeast (early 20th century) and the introduction of bicarbonate of soda (early 19th century) became the norm for leavening bread in Ireland.
Brown Bread Recipe: Ballymaloe Cooking School Shanagarry, County Cork, Ireland. This recipe has been altered from the original recipe.
3 cups… Odlums whole meal flour
½ cup Odlums Crème flour…or King Arthur All purpose
The two flours will weigh approximately 1lb.
1 ½ to 1 ¾ cups water…blood heat…approx 95 degree….could be 80 to 85 deg.
1 Tablespoon oat bran
1 Tablespoon wheat bran
1 Tablespoon wheat germ
¼ cup dark brown sugar
1 ½ teas kosher salt…1 teaspoon. table salt
1 Tablespoon molasses…treacle…Irish, British molasses.
1 Tablespoon dry yeast. 1 packet Fleishman yeast
Directions/Methods:
Preheat the oven to 450 degr
Butter a 9 x 5 loaf pan
Kitchen aide mixes (slowly) with paddle or stir well to mix thoroughly.
Mix the flours, the salt (and whatever I decide on the final recipe) in other words, the dry ingredients.
1 Tablespoons treacle.10 to 20 seconds in the micro will do it. Then add enough water (85 to 95 degrees) to measure 1 ½ cup.
Have ½ cup warm water ready if needed.
At this time, add the dry yeast to the mixture and stir thoroughly.
Next add the water & treacle mixture to the dry ingredients and mix thoroughly to make the dough…too wet enough you cannot knead it. If need be, add a bit more water.
Pour into buttered loaf pan and spread batter evenly.
Cover the loaf pan with a buttered piece of parchment paper to stop the top of the loaf from drying out while it rises. The bread will double its size. Bake in the 450 degree oven for 10 minutes. Then reduce the oven to 425 degrees and continue to bake for another 35 to 40 plus minutes. A thermometer inserted into the loaf registering 190 degrees, the loaf is done. A tap on the bottom of the loaf sounding hollow, the bread is done
History/Tradition/Observation
Tradition has credited Sir Walter Raleigh with bringing the potato to Ireland in 1587. Stories abound he actually brought the potato from Virginia, and while stopping off in Ireland, potatoes were left, planted and the rest is history! And the history of the potato in Ireland is fraught with terrible famines, the worst of the worst in 1845. It lasted for six years, killing over a million men, women and children while causing another million to immigrate to other countries. Today, we honor our ancestors by cooking their most treasured potato dish, Colcannon, traditionally made with kale and enhanced with scallions (green onions), beaten fluffy and laced with melted butter and whole milk.
Colcannon Recipe: This recipe serves 4
1 cup chopped & braised fresh kale
6 scallions (1 bunch) finely diced.
1 lb. plus potatoes (russet potatoes good starch), each potato should weigh approximately 8 to 10 oz.
4 tablespoons melted Kerrygold butter
2/3 cup warmed whole milk or light cream
Salt and pepper to taste
Directions/ Method/Preparation
Cut the stems from the kale, chop or tear the kale into medium pieces.
Braise the kale in lightly salted water until tender. Taste.
Strain the kale; add a knob of butter and keep warm.
Sweat the finely diced scallions in butter. Keep warm.
Wash and peel the potatoes.
Slice the potato in half and slice each half in ¼ in slices
Boil in lightly salted water, 15-20 min approx. Do not over cook.
Drain immediately.
Beat until light and fluffy. No lumps
Add the melted butter and warmed whole milk gradually.
Fold in the kale and scallions.
Salt and pepper to taste.
Serve immediately
History/ Tradition/Observations
Black pudding has been part of the Irish diet for centuries. This ancient food originally became part of the peasant's diet in their attempt to use every part of the animal. The Irish began to eat it during medieval times when wasting any food was out of the question. Blood pudding today can be found in food cultures throughout the world. Black pudding recipes contain either dried pigs or beef blood, containing any or all of the following products (barley, breadcrumbs, oatmeal, pork, onion, black pepper, herbs, and spices) mentioned here. In Ireland, there are more than half a dozen producers of black pudding. Here in the US there many producers. Obviously not all the puddings taste the same. The one we use is Donnelly's which is made in the US using Irish spices. I believe it is one of the best.
Black Pudding with Apple and Cider Sauce Recipe: Serves 4
Peel, Core & Slice 2 apples into 8 pieces apiece and toss with lemon juice.
Slice the blood pudding into ¼ in. portions12 oz. Donnelley's blood pudding
3 to 4 tablespoons of Kerrygold butter
1 sweet onion caramelized
Add fresh sage to taste
Apple cider
½ cup heavy cream
1 teaspoon fresh lemon juice
Salt and pepper to taste
Garnish with finely diced parsley
Directions/Method/Preparation
Heat half of the butter in sauté pan.
Add the onion and gently cook until the onions begin to gently caramelize.
Add the apple cider and simmer for a few minutes for the cider to thicken
Add the fresh finely diced sage
Then simmer for 5 to 7 minutes.
Season with a bit of salt & pepper.
Warm the heavy cream and add slowly to the onion mixture.
Reduce gently until slightly thickened.
Set aside and keep warm.
Heat the other half of butter in sauté pan until it sizzles.
Sauté the apples until soft and (sprinkle sugar) caramelized at the edges. Remove from skillet and keep warm.
Sauté the pudding portions crispy no more that 2 to3 minutes. Cooking longer they have a tendency to fall apart. Set aside and keep warm.
Having dishes ready, onion mixture first, followed by apples and then puddings and any sauce left in pan.
History/Tradition/Observations
Baileys is the perfect marriage of fresh, premium quality Irish dairy cream, finest spirits, Irish whiskey and a proprietary recipe of chocolate flavors. The raw ingredients are sourced from the island of Ireland. It is gluten free, contains no eggs or egg products. It is basically lactose free with a trace amount of 0.05%. There are no nuts or nut products in the manufacture of Baileys. Baileys has a shelf life of 2 plus years as long as it doesn't come in contact with direct sunlight. The key to the shelf life of Baileys is the patented process of blending the fresh cream with the whiskey without use of preservatives. The alcohol acts as a natural preservative for the product. The Baileys cheesecake we will make this evening is an unbaked cake containing no gelatin. What holds it together is the high chocolate content that sets the cake perfectly?
This recipe is adapted from, The Complete Irish Pub Cookbook, The best of traditional and contemporary Irish cooking, p.150, Parragon Books, 2012.
Baileys Irish Cream Cheesecake Recipe: Serves 10 or more
Chocolate Chip Cookie Crust
Butter a 9 in. round spring form cake pan
Line the bottom with parchment paper
Vegetable oil the sides of the cake pan???
4 tablespoons Kerrygold butter
1 ½ cups crushed chocolate chip cookies
Press crust into bottom of pan and chill in fridge for 1 hour
Filling for Cake:
8 oz. semisweet dark chocolate broken into small pieces.
8 oz. milk chocolate broken into pieces.
¼ cup sugar
1 ½ cup cream cheese
2 cups heavy whipping cream
3 tablespoons Baileys Irish Cream
Directions/Method
Whip the cream into medium soft peaks (not quite stiff peaks). Set aside
Put both chocolates in bowl over simmering water and melt.
Let cool
Put sugar and cream cheese in a bowl and beat together until smooth.
Fold the whipped cream into the cream cheese mixture.
Fold the chocolate mixture into the cream cheese whipped cream mixture.
Stir in the Baileys.
Spoon the mixture gently into the cake pan, smooth the surface and chill for at least 2 hours or until firm.
Serve with red raspberries.