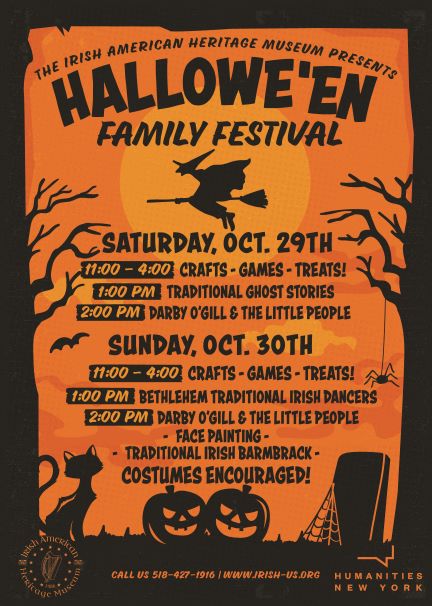 Drop in (and wear your costumes!) to the museum anytime from 11am to 4pm on Saturday and Sunday (October 29th & 30th) for some traditional games, crafts, barmbrack, and trick-or-treating, as we celebrate the ancient festival of Samhain, the inspiration for Hallowe'en.
Saturday October 29th at 1pm: Museum director Elizabeth Stack, PhD will present ghost stories from near and far and discuss their connections to traditional Irish folklore.
Sunday October 30th at 1pm: Watch a performance by dancers from Bethlehem Traditional Irish Dance, LLC
On both days of the festival we will conclude with a special Film Club screening of Darby O' Gill and the Little People (Rated G) at 2pm in the museum theater.
This program was funded in part by Humanities New York with support from the National Endowment for the Humanities.