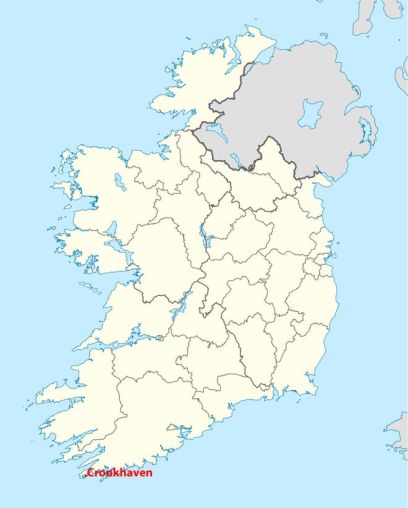 Chris McCarthy is a member of the Board of Trustees at the Irish American Heritage Museum. He and his wife, Kathy, have lived in Delmar, NY since 1995 where they have raised their two sons, Christopher and Cormac. Chris grew up on Long Island in an Irish-American family where his paternal grandmother's soda bread and mutton pies were family favorites, and black and white pudding standard holiday fare, where family parties ended with songs and stories, and Dorothy Hayden Cudahy's "Irish Memories" radio show on WEVD played on Sunday evenings. Chris remembers his Kerry-born grandmother occasionally doing a step dance when a jig or reel came on.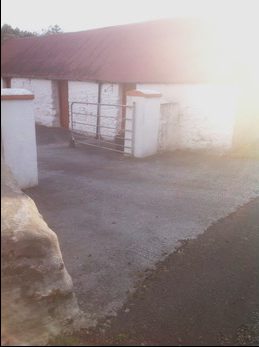 Chris's paternal grandparents emigrated from Ireland in the early 20th century, his grandfather, Tim McCarthy from Crookhaven, Co. Cork, and his grandmother, Mary O'Connor from the Dingle Peninsula in County Kerry. At his father's wake in 1990, Chris learned that his 18 year old grandfather attempted to immigrate to the US in 1915 and made it from Cork to Liverpool only to learn that the ports were closed to young men eligible to enlist in the British military during WWI. He went home to Crookhaven, a village on the Mizen Peninsula of West Cork, and finally left for the US in 1923. Tim McCarthy thus spend the war years in West Cork, a hotbed of republican activity in both the War of Independence and the Irish Civil War. The burned out shell of the old British Coast Guard Station at Crookhaven Harbour was a tangible testament through most of the 20th century until it was converted into holiday apartments in the 1990s.
Tim was the 11th of 12 children, most of whom emigrated, so even with the family ties being very recent, there are only a couple of second and third cousins remaining in Crookhaven. In 1983, however, Chris's parents visited Crookhaven and made a surprising purchase: they bought a cottage on the harbor very close to the cottage where Chris's grandfather was born. Chris's sister now lives in Crookhaven and the other various branches of the McCarthy clan are regular visitors.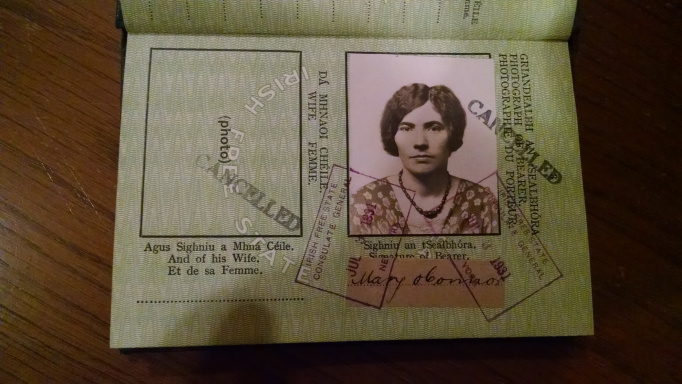 Mary Oconnor Irish Free State Passport
Chris's grandmother, Mary O'Connor, was from Aughacasla, Co. Kerry and lived on a farm on the north side of the Dingle Peninsula with a view of Tralee Bay near Castlegregory. She left school at 13 after her mother died to care for her father and five younger siblings, and immigrated to the US in 1920 at age 18 in the midst of the Irish War of Independence. County Kerry, like the rest of the southwest, saw revolutionary action, and Chris's grandmother told her family of her 13-year-old cousin walking home from Mass who was shot by the Black and Tans. The boy heard a lorry coming down the road and hid in a nearby ditch. The movement caught the eye of a Black and Tan soldier who fired and killed the young lad. Another time, the Black and Tans barged into the O'Connor home, swept everything off the table by a window onto the floor, and set up a machine gun on the table pointing out the window to the stream and the road. While there were no shots fired, the experience remained branded in Mary's memory.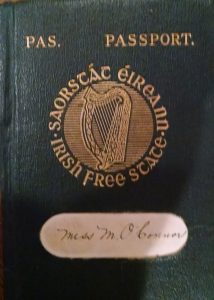 Mary immigrated to Holyoke, MA where her uncle had already moved – the Springfield / Northampton corridor was a hub for County Kerry migrants – and found work as a domestic and cook for a Holyoke family. Five years later, around 1925, she found work as a cook without the other domestic responsibilities and for more money in Brooklyn where she met Tim McCarthy. They were married in 1932, and lived in an Irish neighborhood in the Bronx before moving to Queens where Chris's father grew up. Mary retained her Irish citizenship – and Free State Passport – all her life. She was an integral part of the McCarthy family until her death in 1991 at the age of 88. While Mary always said she liked the English people, she was happy that Ireland gained its independence.