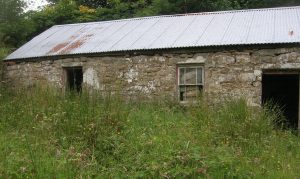 Joseph Gallagher has lived in Scotia for thirty years and is Executive Director of Mohawk Opportunities, an organization that operates housing programs and community based support services for individuals with special needs. On both sides of his family, his Irish roots run deep. His grandmother, Agnes Mooney, was born in 1889 in Kiltyclogher, a small village in northwest County Leitrim near the border of County Fermanagh where traditions of land agitation and resistance to landlords were part of the fabric of life. Kiltyclogher was also the family home of Seán MacDiarmada, one of the seven signatories of the 1916 Proclamation of Irish independence. MacDiarmada was executed by the British on May 12, 1916 in the courtyard at Kilmainham Jail. The Mooneys lived 100 yards from the McDermott family and Agnes told her children and grandchildren that the Mooneys and McDermotts were related. Sean MacDiarmada was born in 1883 and lived in Kiltyclogher until he moved to Edinburgh around 1903 to find work. Sean changed the spelling of his name to the Irish around 1904 when he became involved in republican organizations. He moved on to Belfast in 1905 and Dublin in 1908, but the rest of his family remained in Kiltyclogher.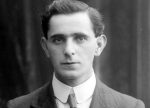 Agnes Mooney immigrated to New York City in 1910 with her two sisters, so Agnes was a McDermott neighbor for 21 years and overlapped with Sean for 14 years. Like Sean and his 9 brothers and sisters, the five Mooneys probably attended the Coracloon National School, and they certainly played together in the fields of Kiltyclogher. All but one of Sean's siblings immigrated en masse to the US after his death, the remaining sister, Maggie stayed on in the home. Agnes's two brothers remained in the Mooney home. One brother died young. The other married and remained in the family home for many years. His grandchildren now live in Galway and Sligo and the house the Mooney's grew up in is just a shell, but it is still standing and still owned by one of Joe's cousins. In New York, Agnes Mooney married Joseph McLoughlin, a Cavan man, and had Joe's mother, another Agnes.
Joe's father, John Gallagher, was born in New York City to Donegal immigrants in 1920, but the family moved back Gweedore, Co. Donegal when he was 4 or 5. The family was in the US for the height of the revolutionary years and since Gweedore is an Irish speaking area in a remote part of Donegal, they may not have seen much revolutionary action had they been there. The only story Joe ever heard related to the IRA involved his father and cousin who took a taxi from Derry to Gweedore when returning from a working trip to Scotland in the late 30's. They were followed by the police, and when they got home, the police searched the car and tore apart Joe's grandmother's house because the two young men were suspected of gun running.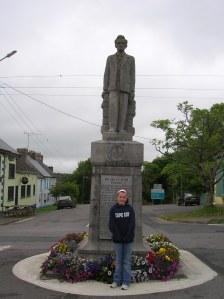 John Gallagher returned to New York as an adult in 1946 and was introduced to Agnes McLoughlin by a cousin of Agnes, Mary Holt Moore, at a Ceili at an Irish Cultural Center in New York City. Mary Holt Moore is also descended from the Mooney's of Kiltyclogher and made a name for herself in the New York City Irish associations. The matchmaking was a success: John Gallagher and Agnes McLoughlin married in 1950 and raised Joe and his three siblings in Little Falls, NY. They vacationed in Leeds with 100s of other Irish immigrants and had close contact with their Irish relatives. On an annual basis Joe's father walked with the Council of Gaelic Societies in the New York City St. Patrick's Day parade, a parade Mary Holt Moore led as Grand Marshall in 1991.
In 1999, Joe visited Ireland for the first time and met his cousins in Leitrim and visited the Mooney and McDermott homes. He has returned several times visiting both Leitrim and Donegal. Once he and his brother had their own children – Joe has two daughters, Jennifer and Elizabeth – they began a tradition of bringing the next generation to Ireland as each child turned 12, using family and national history as their guide. Included in each visit are stops in Dublin at the GPO and Kilmainham Jail and a journey to Kiltyclogher where they stop at the statue of Sean MacDiarmada in the middle of the town square, inscribed with Sean's last words, "I die that the Irish nation might live," and proceed down the road to visit the Mooney and McDermott homes.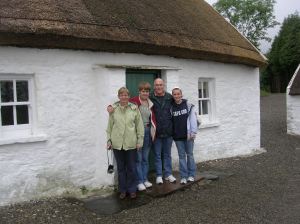 Sean's home is a traditional Irish cottage with three rooms, a thatched roof, a large fireplace, and some thatched outbuildings. It overlooks Upper Lough Macnean and today is partially surrounded by rhododendrons. Maggie McDermott lived in the house well into the twentieth century. When she moved nearby with her daughter, Sean's nephew John James assumed ownership. In 1964, he transferred the home to the Office of Public Works and remained as caretaker until his death in 1976. His was the last McDermott wake to be held in the house. In 1982, the home opened as a museum and is the only home of the seven signatories still standing.
A friend of Joe's cousin has a key, so the Gallaghers can have their own private tours whenever they wish.